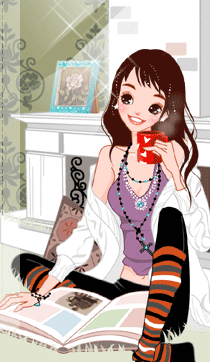 Hi there..thanks for visiting Girl Cook Art. Ok that sounds like something that popped out of an Air Hostess. Anyway, this is one place where an "ordinary" girl like me is going to have the opportunity to share her view of the world..
If I can put myself in a few words, then this should suffice - I GET why The Godfather is such a big deal, but I also cant stop myself from watching reruns of "Sleepless in Seattle" on TV. YA, a movie-nut(the good ones). I love food. Yet I can hardly try anything without peeping into my cookbooks..hey, don't judge me too soon! I cook nice..and I love to dabble in everything creative - be it art(painting), crafts, sketching, designing for t-shirts, photography etc..Like any girl, I dream of the perfect life(little Labrador puppy and all the perks) but I am not defaced by the "reality" of things. So here's me rambling on about things that catch my eye..and I hope you enjoy reading too.
The Cameras I Use
This requires a special mention as, I suppose, like myself many readers who come across a blog or a site wonder which camera was used to take those particular shots. I use two - a Nokia X6 touch-screen phone which has a satisfying 5MP cam and a Canon Powershot SX150 which has an impressive 12MP cam. I prefer to use my Nokia more often as it is lighter and I am very much familiar with it. I ocassionaly use my Canon but mostly reserve it for professional shots. So, there ya go..