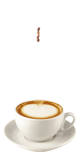 After a very long haul, we went to CCD..my friend and I. Basically didnt pop in there for quite a while coz of the hole it would regularly burn in pocket..so we decided to buy bru cappucino and make it at home..yet wouldnt compare to the original thing...
I don't really feel comfortable there, to tell you the truth..coz of all the posh and snooty people that visit there. But if it would be just about the taste of real good coffee and cushy comfort of my corner sofa, I could practically decide to live there. The menu had changed slightly..what with the summer specials and all. Hmm..what do I buy this time...I wondered. The prices were steep to my taste and consideration. But whatever, its after such a long time...its legal. My eyes settled on my previous favourite (despite the eerie name) -
Devil's Own
. I didnt even dare to wander into the specials section coz I am well aware of this branch's reputation of hardly serving any of them..but my friend didn't listen to my advice. "Is there anything in the display that they CAN offer?", I argued. My friend settled the debate by asking the waiter about the new items...he gave a numbered few. I scoffed at my friend, "See? I told you so". Settling for the regulars, my friend got busy with a phone call while I started having a look around...who's come, who's natural, who's gotten hair bonding done, who's dressing is nice and who's showing off. Then came the waiter with our drinks - my 'Devil's own' and the other 'Mochachillo'.
My drink came in a plastic packaging...if I remember it right, it used to come in a tall glass with ice-cream and lots of layers and was really rich. But this one seemed like a floozy. Just your basic cold coffee with whipped cream on the top and 2 coffee beans on the top? Has recession bitten CCD? or do they think the customer knows nothing? Whatever it is...89 bucks were spent on a sad mistake of a drink..
My sad 'Devil's own' and my friend's 'Mochachillo' (or was is Bournvita??)


My shake had 2 pods on the top which I mistook for chocolate chunks...I tried to taste it first..yuck! I realized that they were real coffee beans...I already was chewing them and couldnt spit it out anywhere! Oh, the bitter taste!
Then I bought a packet of regular coffee...while I was very much tempted to shell out on the espresso coffee maker they had on the shelf but I controlled myself. The funny thing was that the manager (who was once the waiter-boy) recognised us:)
Even my froggie would enjoy this aromatic coffee!
But more than the coffee itself, I loved the neat bag that they gave the coffee in!
I am not sharing my cute bag with anybody!
Its these little things in life that I enjoy the most. A smile, 2 sad coffees, a relaxed conversation, and a bitter coffee nut in my mouth..surely, a lot can happen over a cuppa coffee!